A. Richard [Evans] and I were asked to do the project, with the expectation that Peter Gabriel would provide a song that would fit somewhere in the film. The track he wanted to give them was a version of "Animal Nation", which they felt was not suitable, so that part of the score (wherever it was meant to go), was left on hold.
Richard and I began the project by making a tempo map of the whole film, figuring out what tempi they had made their edit to. It is mostly an animated film (36 minutes long), so things donít really change a lot as the film moves toward completion. Some things change, but not as much as a live action film where a lot of work is done during the editing phase.
We then worked extensively with Ged [Lynch], laying down rhythm tracks for the whole film. After that, Richard and I played bass and guitar to picture, trying to capture the moods of the different scenes, and the themes for the different characters.
After a couple of weeks we sent off a request to Hungary for our friendly orchestral arranger, Peter Pejtsik, to come over and start arranging the strings for us. (Richard is good at this sort of thing, but not as fast as PP, and not as ornate with his arrangements.) We carried on working for a few weeks, Richard and I in one room and PP in another, checking on each otherís work.
Towards the end of recording process we had soloists come in. PG came into that category, singing on a couple of pieces in the film. He also provided the opening theme which he had recorded at Real World, with Dickie [Chappell]. There is a credit song with some lyrics by me and some by PG, sung by Angie [Pollack] and PG.
There was also a flute player called Teymour Housego, who had played on the India documentary [a film in the 'Atlas' series for The Discovery Channel - ed.]
, who came in and played some lovely things. Claude Chalhoub played violin and viola for us.

Johnny Kalsi played some dhol on the film, and we also had Jerry Marotta play on a couple of pieces.
Q. Does working with more people make it easier or harder to get things done?
A. The project had to move along at quite a pace, because we had the tour looming. We had a good team. PP was also helping finish off India and South Africa
[another film in the 'Atlas' series - ed.]
.
India was then handed to Ben Findlay to mix, whilst South Africa was handed to Simon Emmerson and Paul Grady. Ben Findlay did the mixing [on Sea Monsters] whilst we were rehearsing, so we were able to check his work as it went along. Tchad Blake mixed the credit song.

We were also meant to be doing the music for a beer company installation in South Africa, but that went to Simon as we had no time available.

When things were at their craziest everything was happening at once.
Q. Did the fact that the film is to be shown in IMAX format influence the way you composed and/or recorded the music?
A. Richard came up with an idea for recording the immersive parts of the film (all the underwater animated sequences) in the round, with the bulk of the instrumentation being cellos (16) and double basses (also 16). PP helped to realise this, thinking very specifically of where and how the arrangements should work. To add to the circle of low stuff, we had four string quartets play in each corner of the hall where we recorded.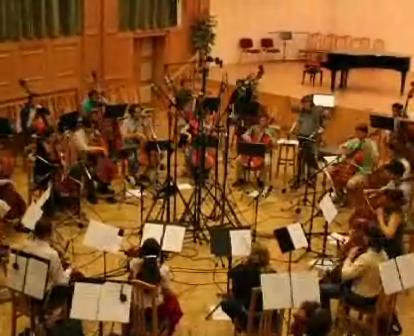 Q. For the music recorded "in the round," will we be able to hear that effect in the theatre?
A. The film will be shown in regular theatres, stereo mixes, and in Imax theatres, which have 6.0 sound systems for which the orchestral sessions were specifically prepared and recorded.
Q. What instruments did you use for the soundtrack? What guided your choices?
A. We started off with percussion, in particular some metal planters that Ged bought at Habitat. They have a strange resonance that came to mark out the underwater scenes. Then we added bass and guitar, writing melodies with piano, and some electronic sounds which we knew would be replaced.

The soundtrack had to be heavily orchestral, to have a grand sweep and depth, and we also knew that we would like to have some strong soloists.
Q. Why did you decide to use only actual instruments rather than samples and synthesizers?
A. Richard was fed up using a drum sampler that we had employed extensively on all the Discovery films. I was wary of giving ourselves such a strict rule (I quite like that particular machine), but I bowed to his judgement. So Ged worked with us to create the rhythmic tone of the soundtrack. The colour and dynamics of real instruments brings increased sensitivity in music, which is what we all like, I hope.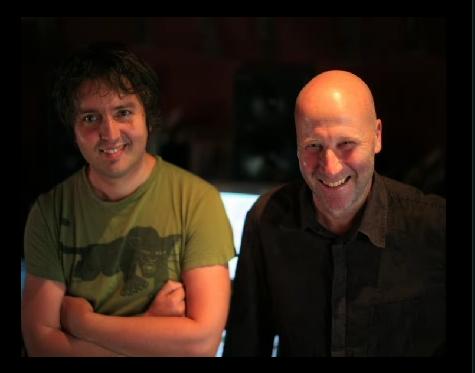 Q. Are there specific areas where you tend to defer to the opinions of others, and/or where you stand firm about your own ideas, or does this vary from project to project?
A. It varies. I think you can feel when someone is onto something, so you let them run with it. Conversely one hopes that they feel the same way when you have a specific idea about the direction things should go.
Q. Now that you've tried it, how do you feel that the end product of actually recording in the round differs from artificially creating a "surround sound" effect during the mixing process?
A. Itís very different. The sound of sixteen double basses and sixteen cellos, all playing together, is weird and wonderful. To merely spread the sound of fewer players out to the surround speakers would feel dry in comparison.
Q. Which guitars did you use for this project? Old favorites? Any new ones?
A. Mainly the Trussart Tele; nothing new, as I have nothing new.
Q. Do you prefer to compose instrumental music or songs with lyrics?
A. Different disciplines really; both are enjoyable, but I think as soon as you say the piece is a song a raft of factors come in, meaning, vocal expression etc.
Q. Were there any challenges to this particular project that you've never encountered before?
A. Yes, the recording of the orchestra in Budapest was exciting and difficult. Very kindly, Dirk Brauner supplied all the microphones for the recording. He makes remarkable microphones of the highest quality, which he delivered and set up for us.

All in all, it was a very enjoyable intense period of work.
Q. Are there any plans to release the Sea Monsters soundtrack on CD?
A. It's expected to come out in the near future.
For more information on 'Sea Monsters' check out National Geographic's website for the film.

For theatre locations and schedules, click here.